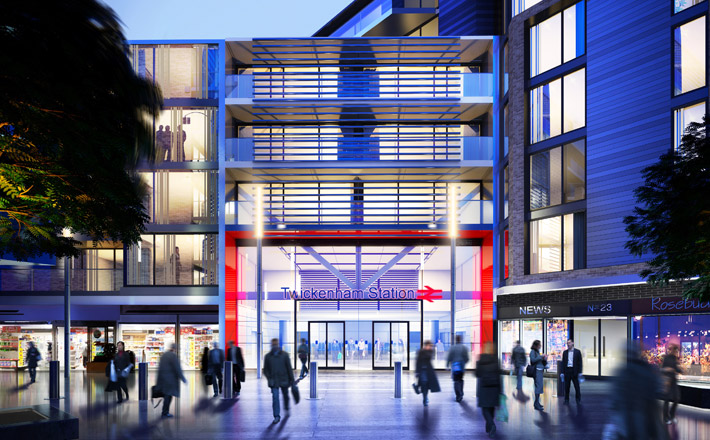 Next step for Twickenham Station as entrance is set to move on 25 August 2017
The transformation of Twickenham Station is set to move into its next phase, with confirmation that the station entrance will move on the 25 August 2017. This will enable work on a new station and public plaza, being created by Solum, to start. Solum is a partnership between Network Rail and Kier Property.
After the 25 August 2017, access to trains, ticket machines and other services will be via a temporary station next to platform 3. Near the temporary station entrance there will be one Blue Badge holders bay, one 'Kiss & Ride' bay as well as two spaces for taxi set down and pick-ups. Replacement cycle parking facilities are also being provided.
The current station is set to be demolished to make way for a modern station on a new public plaza. The station will feature lifts to the platforms, a significantly larger ticket office and additional cycle parking spaces. In addition to 115 much needed new homes, a pedestrian walk way to Moormead is also being created. The plaza will include new shops and create a modern gateway to Twickenham.
Extra station staff will be available when the entrance moves to assist passengers.
Residents and commuters are encouraged to sign up to stay up to date at www.twickenhamforward.com
Commenting on the progress made to date, Vicky Western, Development Manager at Solum said:
"Good progress has been made to date and we will soon start the main phase of construction. The new station will open in spring 2019 and deliver the new modern facilities the traveling public rightly expect from Twickenham.
"Solum would like to thank residents and commuters for their patience and understanding to date as we try and deliver this important project with as little disruption as possible for both neighbours and the travelling public."